It's a new year! I hope yours is going well and that you're staying warm on these chilly January days here in the GTA.  For me, staying toasty often includes a crackling fire, cozy blanket, my fuzzy slippers…the Danish refer to as "hygge" (pronounced "hue-guh"). It's a concept that caught my attention since it really reflects my approach to life and work.
What exactly is hygge?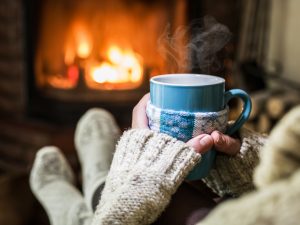 There's no English translation for hygge, which can make it a bit difficult to explain. In Danish culture, hygge is a way of creating a feeling of contentment. It's about celebrating life's little pleasures and feeding your soul with simple, good things.   Its origins can be traced to a 16th century Norwegian term "hugga", meaning "to hug".  Thinking that hygge is what it feels like when you're wrapped up in a big hug is a great way to describe the term actually. This article does a great job of explaining hygge too.
How can you make 2018 a hygge new year?
By now you may be saying, "Sign me up Isabelle!" I have great news. Introducing hygge to your home is easy and winter is the perfect time of year to do so.
Here are a few ideas to help you bring hygge to your home:
Create a cozy cocoon.
As much I enjoy shopping for home decor items, getting hygge doesn't mean you'll need to purchase things. Light a woodsy-scented candle, light a fire and curl up with a warm tea and a cuddly blanket. Here are a few more items to help you create in-home hygge-ness.
Feed your soul.
Nothing warms you up on a chilly January day like a bowl of delicious homemade soup. In the hygge spirit of food that's simple and delicious, try this Slow Cooker Chicken Tortilla Soup. Let it simmer all day, filling your home with mouth-watering aromas. Ladle it  into a beautiful crockery bowl and enjoy.
Sip on something warm.
Does it get better (or more hygge) than taking a few moments to enjoy your favorite warm beverage? Go ahead…give yourself a few quiet moments to sit, to sip slowly and just enjoy some quiet time.
Invite your friends.
Invite friends over for a fun evening together. There's no need to get fancy or spend hours prepping a meal. Remember that hygge is about slowing down to appreciate people and moments.
Here's to a happy, hygge 2018!