As time changes, so does design, especially when it comes to kitchen trends. In 2018, there are a multitude of options beyond tried-and-true stainless steel appliances and finishes. Spending just a little more time on these details can help you create your own signature style. For example, high-tech appliances give your kitchen a very futuristic, modern feel. Perhaps you prefer to go back in time with retro-style appliances, decor and colour to inject a fun vibe – always great when entertaining guests!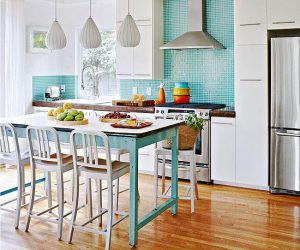 Black is back…white too
Matte black and glossy white appliances are a modern alternative for stainless steel and can completely transform a kitchen.  The trend toward matte finishes extends beyond kitchen appliances into home decor items and furniture – even cosmetics and cars.
No color creates instant polish like black – whether it's your favorite little black dress or a free-flowing kitchen as seen in the image below.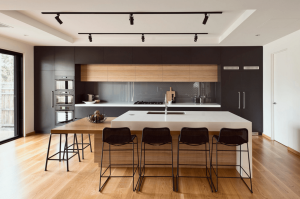 Many people tend to shy away from white, thinking it can look dull. Glossy white, however, has recently made a comeback in the world of design, especially when it comes to kitchen counters, flooring and furniture.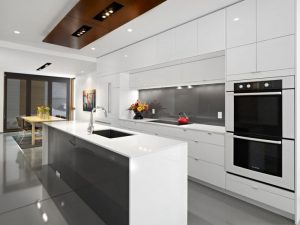 Kitchen appliance companies have expanded in the types of styles they carry. Distinctive and Fisher Paykel now carry appliances in a variety of colours which are available in gloss or matte finishes, as well as appliances designed in styles from different eras.
Appliances get smart
Design and technology go hand-in-hand to create enticingly beautiful additions to your home. Today, you can even invest in technology to create a "smart kitchen" to make time spent in the kitchen more enjoyable and productive.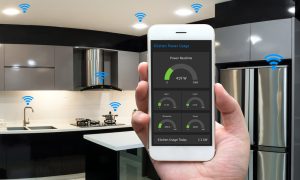 No fingerprint fridges
Smudge-proof appliances provide a crisp and clean addition to your kitchen while saving you some extra minutes when it comes to cleaning. As kitchen trends go, this is one I predict is here to stay, with many appliance companies offering a full line of appliances with smudge-resistant finishes that easily wipe clean and no longer require any harmful cleaners. Whirlpool's line of black stainless steel appliances are stylish, smudge proof and scratch resistant. Brilliant!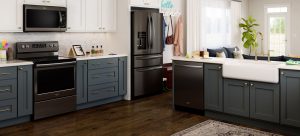 French door ovens to make you say "Ooh, la, la"
If you are dealing with limited kitchen space, French door ovens may be just what you need. They reduce the clearance needed, plus offer a more sophisticated look than typical conventional oven doors. Some models even offer Bluetooth so you can use your smartphone to operate your oven at your convenience.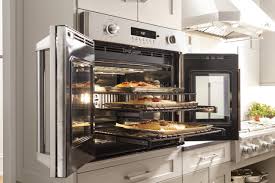 Appliances get in sync
According to GE, they offer kitchen appliances that work with other household sytstems. For example, when in use, your GE appliance can automatically turn on lights or your home's heating or air conditioning. They're also developing new technology to synchronize cooking times, allowing main dishes and sides to be prepared simultaneously.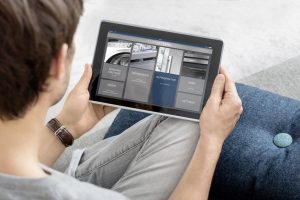 Ovens get steamy
Steam ovens are the future of cooking, helping food retain its nutrients and flavor. You can pre-set the oven to complete the dish within any time frame and it will automatically adjust the cooking process to meet your demands.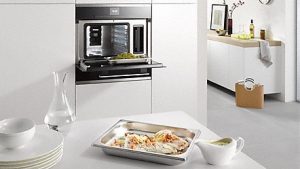 Whether you are on a budget, have limited space, are renovating, or just moving in, hopefully this recap of 2018 kitchen trends provide practical ideas and inspiration to help you create a beautiful kitchen to suit your unique style.