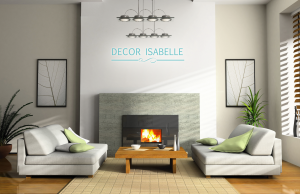 In home interior design, focal points can make the difference between a room that says "Wow!" and one that fades—literally—into the background.
And yet it's so simple to do. I'm going to show you how, in no time at all, you can make your home the talk of Hamilton, Burlington and the GTA.
Using Focal Points to Enhance Your Home Interior Design
Below are some ways to make your home shine using focal points. But remember: only choose one method per room—too many focal points create confusion!
Architectural features: If you're lucky enough to have some striking architectural features or a stunning view, this is the ideal place to start. Whether it's a fireplace, an elegant staircase, beautifully shaped windows, high ceilings, arches, or exposed beams, highlighting these will allow the room to shine. Keep other features understated by comparison and add extra emphasis through lighting, accessories and colour. Emphasise something like a fireplace with furniture in a 'U' or "L" shape.
Colour: Not all homes have architectural features that stand out. To overcome this, simply create your own eye-catching feature wall. In home interior design, there's no better way to draw the eye than with colour. Make it complementary or a shade darker than your current wall colour, tying it in with the rest of your room with accessories and other accents in the same colour. Don't forget your ceiling—that could also be your feature wall. Here you can even add molding and a striking light fixture to draw the eyes upwards.
Texture and pattern: Texture and pattern are as good as colour for grabbing attention, creating drama and drawing the eye to a focal point in a room. To get this effect you can use almost anything: tile, stone, fabrics, wallpaper, ceramics—as long as it stands out from the rest of the space. Texture creates layers and depth; pattern adds dynamism. Use sheer, soft materials for a warmer, feminine feel and shiny, glistening surfaces to add modernity.
Art: If you're an art lover, incorporate your artwork into your home interior design by making a focal point out of it. Keep size and feeling in mind by choosing work that's appropriate for the space. You want its tones and colours to stand out, but not jar with the rest of the room. Go for a single large piece against a contrasting backdrop or group smaller pieces together for an eclectic and bold look. No need to stick to paintings—sculptures, clocks, even pieces of driftwood can make an attractive focal point. Whatever you choose, highlight it with a picture light for guaranteed pop.
Furnishings: Your favourite pieces of furniture, mirrors, rugs, curtains, lighting and even plants can form the focal point of a room. Angle your furniture into the room to draw the eye and use mirrors to create light and space. Mirrors can be treated in a similar way to artwork—they come with a variety of frames and shapes and can be grouped together for dramatic effect. Group odd numbers of plants on dining or coffee tables for a touch of nature. And use bright curtains as a focal point if you have windows you'd rather hide.
Simple to create, focal points reinvigorate your home interior design. It's easy to do yourself, but if you still don't know where to start, Decor Isabelle is a just a call away!
As an interior decorator, I've helped countless people in Hamilton, Burlington and the GTA create their dream homes.
If you're ready to get started, schedule a personal decor consultation today by calling 416-573-2301 or emailing isabelle@decorisabelle.com.