Do you feel like you're seeing a lot of pastel colours in home decor lately? You're not imagining it. Blush, in particular, burst onto the scene in 2016 and is still going strong. (See my April 2017 blog post.) Often referred to as "Millennial Pink," blush continues to be featured prominently in home decor. What is blush pink, you ask?
Blush is the sophisticated older sister of pale pink. It adds a bit of refinement to a space. Used on the walls, it immediately warms up a space. It's also immensely flattering to one's skin tone so don't keep it in the bedroom or the baby's nursery! From walls to furniture and decor accent pieces, I'm seeing blush used throughout the home. Below are some ideas for how you can add this on-trend pastel to your home.  Are you ready to add blush pink to your home immediately? Pop a gorgeous bouquet of blush pink peonies or tulips in a beautiful vase…just in time for Easter!
Decorating with Blush Pink
Go wall-to-wall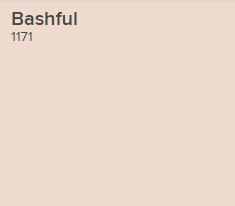 You've heard me say it before, changing your wall colour is one of the easiest and most cost effective ways to completely transform a room. When working with a color such as blush pink, the key is selecting the perfect shade. You don't want to feel like you're inside a bottle of Pepto-Bismol after all! A favorite of mine is Benjamin Moore's Bashful. It has tones of beige and peach so it works well as a neutral. It won't overwhelm a large space so roll it on confidently in your living room or dining room. Click here to see perfect Bashful paint pairings.  For more paint colour suggestions, call or drop me an email.
Mix Statement Pieces with Metallics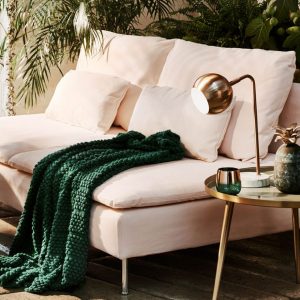 Another way to introduce blush if you prefer to keep your walls to more traditional tones (grays pair beautifully with blush…hint, hint)?Add a statement piece such as the pale blush sofa. Paired with metallic accents, as shown below, creates immediate impact. The great part is that you really can't go wrong with your choice of metallic accents, with bronze and rose gold being especially popular this year.
Dress your windows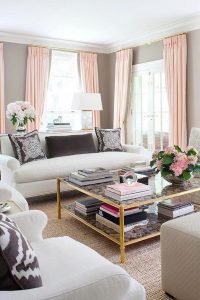 A room without window treatments is like a birthday cake without candles. It looks good but lacks the final finishing touch that completes it. I've never understood it really. Aside from adding decor flair to a room, window treatments control the amount of light that enters the room. They also make a room more energy efficient (close them on a hot day to keep a room cooler, for example). Adding fabric to your windows softens a room and well-made window treatments create a high-end look. Check out this excellent example showing how blush window treatments create that luxe look in living room. If you've been meaning to add window treatments, or perhaps you're struggling to dress a difficult window, now's the time to hop to it!